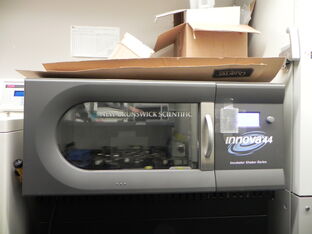 Our 30C shaker is in the first hallway on your right as you enter the kennedy lab. It is between the
-80C freezer
and the the Beckman high speed centrifuge. The shaking part will stop when you open the door and start again when you close it.
Culture tubes
go in the racks on the sides, and should be roughly balanced between the two sides.
Do not bolt plastic culture tube holders into this shaker; they will shear off at the base.
Do not put flasks in the shaker with stirbars in them! If you need to shake an unusual sized container and are unsure how to fasten it in the shaker, ASK SOMEONE!
The link to the manual is here.