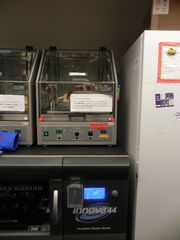 Our 37C Incubator is in the first hallway on your right when you enter the Kennedy lab ( 4 252). It is on top of the 30 degree incubator/shaker and to the left of the -80C freezer.
The shaking part will stop when you open the lid and start again when you close it. It's best to put your culture tubes in at a slanted angle with the tops facing out. If you need to shake an unusual sized container and are unsure how to fasten it in the shaker, ASK SOMEONE! If you know what you're doing, different sized flask holders and screws are in the lowset drawer just to the right of Katie's desk.  Be SURE you know how to attach them correctly.
Do not put flasks in the shaker with stirbars in them!
The manufacturer's manual for this VWR 1570 shaker can be downloaded
here
.