This protocol is for converting your RNA to cDNA using the iScript cDNA Synthesis Kit Cat # 170-8891.
Before beginning
: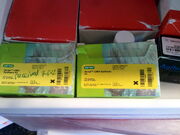 iScript is located in the -20C fridge with the number "2" on it.
Download the iScript calculator as you will need it in order to calculate how much of the enzymes, etc. you need.

Protocol:
The only thing you really have to do is input the concentrations of the samples that you have. The rest of the calculations will be done for you.
For reference, this is how you would go about creating the Master Mix for half-size (10ul) total volume reacitons:

5x Buffer -  2uL/reaction
H20 - 2uL/reaction
iScript - 0.5uL/reaction
RNA template - 6.5uL to each reaction
More generally, you can do a whole 20ul volume reaction with each reaction containing 4ul Buffer, 1ul iScript RT, up to 15ul RNA template (not over 1ug total RNA based on nanodrop spec), and nucelase free water to bring the total to 20ul.  If this is confusing ask your mentor before proceeding!

There should already be a program set in the PCR machine for this, but just in case, here are the temperatures and times:
Incubate at 42C for 30 minutes
Incubate at 85C for 5 minutes
Store RT products at -20C.

Notes:
Make sure to order more iScript if you are close to running out.
This is the product number:
iScript cDNA Synthesis Kit: Cat # 170-8891