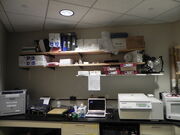 BUCK: Newer area is shelves above Dell 5130 printer, at the parking lot end of the lab where the dissectors work.  Ask anyone in this area of the lab where office supplies are.
ADD NEW PHOTO OF NEW OFFICE SUPPLIES AREA
Older are was area in photo, ESPECIALLY THE DRAWERS UNDER THE LAPTOP.
COMPUTER PAPER: email request to purchasing at the Buck
Biochem Office Supplies are available from the cabinets in the lunchroom of the Biochemistry Department office in J405, and the shelves just to the right as you enter the corridor to the lunchroom. You have to sign out any supplies you take on the spiral pad on top of the filing cabinets, just to the right of the entrance to the lunchroom hallway, inside J405. If you need something that isn't available there, we can order Office Depot items through PurchasePath.