A small first aid kit is located at eye level when walking into the Kennedy lab between the glassware and
corkboard/magnetboard wall. The first aid kits are in a small cubby above the green eyewash station.
The link to the manual is here.
A larger first aid kit is located in the last room at the end of the hallway, near the lunch storage area and the bathrooms.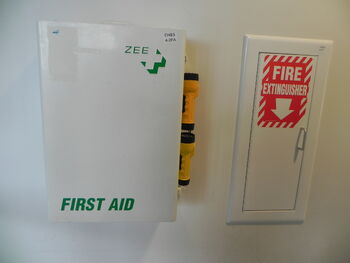 The kit is on the wall with the fire extiniguisher, facing the microwave and boxes of tea.