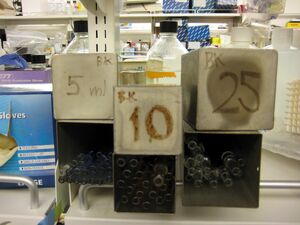 Glass Pipettes in 5ml, 25ml, and 1ml sizes (labeled) are used with electric pipettors (or bulb pipettors) to dispense liquids. They are sterile until their metal containers sealed with autoclave tape are opened. For tissue culture work, you will probably want dispoasble plastic pipettes.
If a size of glass pipettes isn't already stocked on the shelf above your bench, look in the cabinet labeled "Glass Pipettes" in room J337, in the rear left of the room, on the rear right of that bay, under the bench just opposite the student helper's bench. Empty metal pipette containers should be returned to the shlef above the student helper's bench, in the rear-leftmost are of J337.

Electric pipettors are not internally sterile; be careful not to aspirate liquids past the top end of a pipette and into the pipettor.